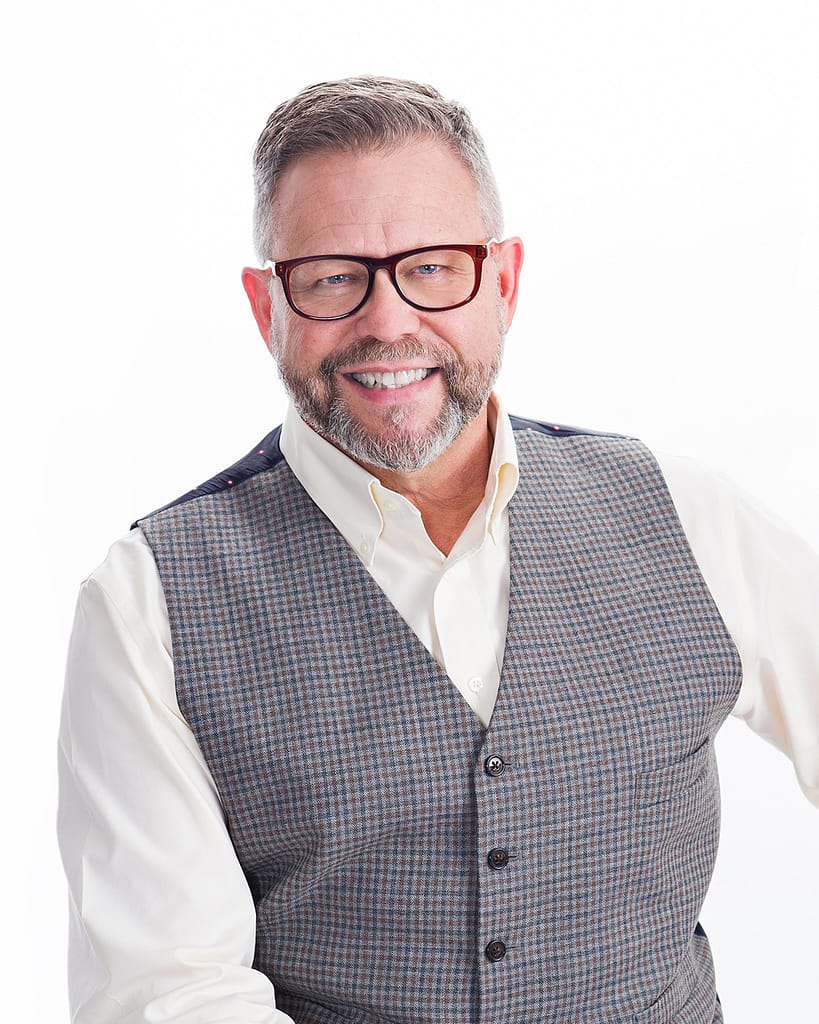 Kent Ross, Co-Owner and Founder
I help companies look better in print! I work with clients to assess their needs and wants and then work with my team to make it happen. 

I founded RP&G in 1984. My family has printing roots that go all the way back to the 1950's when my grandmother founded the Pasco Shopper. My father joined that business in the 60's. While other kids got chores like weeding and mowing the lawn, I got things like collating and folding flyers to make my allowance. 

After graduating from the Art Institute of Fort Lauderdale, I decided to put my new design skills to use, along with my experience in the family print business, and founded RP&G Printing. My goal was and is to help companies look their best in print, by providing the best design, solid marketing advice and personal service. Create Beauty – Help Others – Exceed Expectations are the guiding principles that I use each day. 

After a lifetime in the printing business, I still enjoy the challenge of both the design process and the production process. Some of the technology we get to use daily gives me that "brand new 64 set of crayons with the sharpener built into the box" feeling I remember from childhood! 

My hobbies and activities are almost all about creating – I'm currently working on a series of mixed media paintings, I'm an avid photographer, and late in life I picked up bass guitar and enjoy playing in a local band. Perhaps the only pastime that isn't creative is skiing, which to me is the perfect blend of athletics, adventure and beautiful scenery. 

I'm a member of the Rotary Club of Wesley Chapel, working with them on projects both here in our community and all over the world as part of Rotary International. Our Rotary Club is a vibrant mix of business people from our area coming together to have fun and help others. I served as President in 2017-18.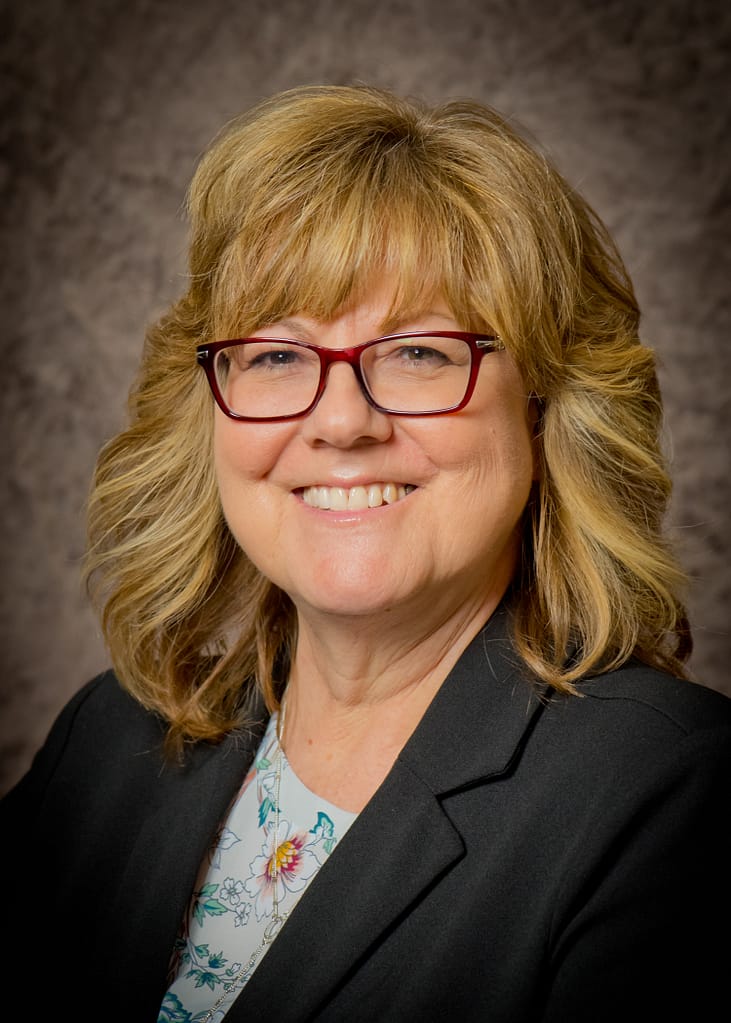 Cindy Ross, co-owner and Office Manager
I handle all the accounting for the business along with placing orders, providing quotes and excellent customer service. I am your front line person when calling or coming in the office.
I came to work with Kent in 1995 when our daughter started Kindergarten.  Prior to that, I spent 10 years in banking, primarily in the mortgage lending area. I also worked in the insurance industry with State Farm.
I graduated with an Associate of Science degree from the Art Institute of Fort Lauderdale. I am proud to be a North Tampa Bay Chamber Ambassador since 2015, and was the recipient of the North Tampa Bay Chamber Volunteer of the Year award in 2017. I am also currently serving on the Board of Directors at San Antonio Citizens Federal Credit Union. I am an alumni of Leadership Pasco, graduating class of 2019. 
I thoroughly enjoy helping customers everyday and making sure they get a quality product at the best price. Helping customers, people and working with our wonderful staff, makes my day!
Some things I enjoy doing are reading a good book, watching a good show and I am  always up for a wine tasting! I really enjoy sharing time with my friends and my most favorite thing to do is spending time with Kent and Miranda.
I find team work inspiring. When a group of motivated people get together to share ideas on how to reach a common goal, the possibilities are endless. This type of open and welcomed collaboration can do nothing but expand positive growth and enthusiasm to do your job each day and to grow your business.
Stephanie Flischel, Graphic Design and customer service
I create your art for print, check your art to make sure it's print-ready, and assist with general customer service duties. I am also responsible for creating and maintaining customer-specific online ordering portals, and making updates to RP&G's order management system to allow us to serve you in the most efficient way possible! I also manage the RP&G website and social media accounts. 
I have been with RP&G since July 2015. I graduated from Purdue University in May 2011 with a Bachelor of Arts in Interior Design and a minor in Spanish. Prior to joining the RP&G team, I worked for an art and mirror manufacturer in Largo, Florida as a Project Manager and Art Consultant, and before that I held positions as a design assistant in both residential and commercial settings.  I have always had a passion for the creative arts, and one of the things I enjoyed most from my studies was space planning and assembling all of my presentation materials in an aesthetically-pleasing way, which is what I think has led me to graphic design! 
I bring a sharp eye and a very thorough attention to detail to the RP&G team. You can rest assured that I am always triple-checking your art and order details before pushing it through the system! I am committed to helping you put your best foot forward in print. 
I am a Chicago native, although some may argue that I'm not a true Chicagoan because I put ketchup on my hot dogs! I try to make up for it in the amount of giardiniera I put on my pizza. My husband Kyle and I have been married since September 2017, and my mom moved to Florida in 2018. My brother lives in our childhood home in Chicago, and we're up there visiting any chance we get! I am also a bunny mom – Cooper is a sweetheart!
Some of my favorite hobbies include dance, cooking and baking, brewing beer, and going to the movies. I currently take adult dance class at Song and Dance Inc. – all types – including ballet/lyrical, jazz, tap, modern, broadway jazz and hip hop. I didn't always love to cook, not until I met Kyle – it was a lot more fun to cook for the two of us than for just me! Now, you can always catch me posting pictures of my latest plates and making you hungry. 
My favorite inspirational quote is, "Happiness can be found even in the darkest of times, if one only remembers to turn on the light." -Albus Dumbledore, Harry Potter & the Prizoner of Azkaban
brianna peterson, Production Specialist and Customer Service
You can call me Bri! I am the Production Specialist and Customer Service Representative, which means I work with customers start to finish on each project. I help customers determine a marketing strategy, and provide insight as to what kind of items help achieve that. I also am the lead pressman, and am responsible for all in-house production printing.
Ive been with RP&G Printing since February 2019, but have been working in the print industry since 2015. Prior to that, I've been in a wide variety of industries focusing on customer service, management and marketing.
I graduated from Saint Leo University with a BA in Business Administration with an Accounting Specialization, and a minor in Human Resources & Marketing. I have served as President, Vice President, Education Coordinator, Member Engagement Chair and Events coordinator in a local networking group. I am also a graduate of the Ascentiv Program (formerly Certified Networker).
I am often the first point of contact for any new customer. After being greeted by Cindy, they are tossed to me, where it is my responsibility to listen thoroughly and offer guidance accordingly. When I interact with our customers new and old, my goal is to give them what their business truly needs – which is not necessarily what they are asking for in all scenarios. The vast majority of people I talk to do not know much about the print industry, and they are relying on my expertise and experience with particular marketing strategies to make sure they get the most bang for their buck. It is my ultimate goal to ensure every customer walks out of here with the proper product for their purpose, and a smile on their face.
I am married to my life-long friend, Brandon Peterson and we have an entire zoo of pets at home: (2) Dogs, Zuri and Daisy, (1) Cat, Dizzy, and (2) Birds, Dali & Gala. We also love fish, and have a few aquariums. 
I am a board member with a non-profit organization called Project Blooming, where we provide therapy in the form of mixed media workshops for trauma survivors. I  am a professional Hula Hoop and Fire Performer, and a founding member of the Spinning Sirens – a hoop performance troop. We can be found spinning fire every year at Brooksville's May Stringer Haunted House in October! I enjoy painting and craft projects. I have an ever-evolving painting gallery in my living room full of pieces I've created. I am a firm believer in Vision Boards, and I am constantly updating mine to reflect my vision. In addition to my artistic endeavors I also really enjoy cooking. I like to spend my weekends meal planning by scouring the Internet for new cuisines to try.
My favorite inspirational quote is, "Don't allow people to dim your shine because they are blinded. Tell them to put on some sunglasses" – Lady Gaga